By Marcy Klein
What do you expect to be doing at age 98? Shuffling around in a nursing home or staring at a television set? Maybe not. Take a peek at the life of FCA "volunteer extraordinaire" Art Trimble, of Rochester, New York.
At time of his death last year at age 98, Art was serving on two Boards of Directors – his local FCA and RCGC, a local horticulture institution – plus writing a book, making regular presentations, and actively engaged in several clubs. It's no surprise that Art was the recipient of the Eli Rudin Second-Half Hero Award from Lifespan, an organization that helps older adults take on the challenges and opportunities of longer life.
Art served on his local Funeral Consumers Alliance for many years. He was always available to counsel grieving and distraught callers to our hotline, and he was a phenomenal recruiter of board members. Last year he found three new board members in one day! Asked about the secret of his success, Art said, "I don't do anything special, I am just genuinely interested in the person I am talking to."
As a staunch environmentalist, he became an advocate of green, or natural, burial, which is a simple burial without embalming in a biodegradable casket or shroud. Art believed that promoting natural burial is essential to saving our planet, since that type of burial eliminates hazardous chemicals, conserves natural resources, and can expand forever-wild areas.
Working with his local FCA, Art was instrumental in getting the first green cemetery opened in the Rochester area, at White Haven Memorial Park. He bought one of the first plots, and is buried there today. Andrea Vittum, Director of White Haven, remembers, "Art was absolutely passionate about his belief in taking care of the environment, even with one's own choice for burial. He shared his beliefs both articulately and enthusiastically with anyone who would listen. In so doing, he was instrumental in making Green Burial one of the most popular choices at White Haven." And thanks to Art's early initiative, there are now four local cemeteries that offer green burial, giving families more choices about their final resting place.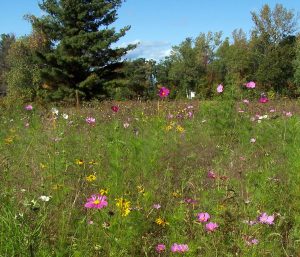 Art was also an early member and frequent contributor to our local Death Cafe scene. At these gatherings, now happening around the world, people meet to share refreshments and discuss death in an informal way. Mary Ellen Markant, convener of Rochester's bi-monthly Death Cafe, notes: "Art was a stalwart supporter, often trying to convince others to attend. He rarely missed a session. He uninhibitedly revealed his naked sense of vulnerability and wonderment about what dying would be like." Another participant marveled, "Art was so knowledgeable and willing to share stories, ideas and rules learned through the Funeral Consumers Alliance. I was so surprised to learn that he had not been a funeral director, but an engineer! He was always a delight!"
What will you be doing at age 98? If you're lucky, you'll be living a life as full and rich as Art did, and inspiring others—regardless of age—to make a difference in the world.
Marcy Klein is president of Funeral Consumers Alliance and of FCA of Rochester New York.
Send me an email when this blog has been updated.