By Karen Smith, Ph.D.
"What we do to the earth we do to ourselves" is an adage many people have come to believe. How we connect to nature matters and can have benefits for our health, according to New York Times journalist David Suziki.

Do you believe your living and dying are part of a larger natural procss in which we all play a role? Do we all transition from ashes to ashes and become part of the flowers of the meadow as our bodies decompose? Do you want a simple slipping away wi little fuss, both during your dying process and for your final disposition? Have you expressed these wishes to anyone? If not, why?
Maybe you would choose a more colorful metaphor that expresses your choice to live as loudly as possible while you can. You're the type to 'rock the casbah,' wear purple and boogie-woogie 'till you just can't boogie anymore. It's your choice, of course, but be mindful that eventually even you will go gently (or not gently) into that good night. Do yourself and your family a favor and complete an Advance Directive expressing your wishes regarding aggressive medical treatment at the end of life. National Healthcare Decisions Day is April 16th it's a great time to get this talk started.
It only takes a few minutes to tell someone you trust if you do or do not want to be on dialysis, a ventilator, or to have a permanent feeding tube. Be sure to write your wishes down in an Advance Directive. Applicable laws vary by state, so you should visit this site to see the laws that apply to your situation: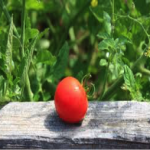 One of my favorite books is "When I Am An Old Woman I Shall Wear Purple," by Jenny Joseph.  The book includes Patti Tana's poem about death, the last line of which references her being buried in her garden. Tana muses that a friend might say, "That Patti, she sure is some tomato!"
Now that is a metaphor to live up to in my book.

Post Humus
By Patti Tana
Scatter my ashes in my garde
so I can be near my loves.
Say a few honest words, sing a gentle song,
join hands in a circle of flesh.
Please tell some stories about me
making you laugh. I love to make you laugh.
When I've had time to settle, and green
gathers into buds, remember I love blossoms
bursting in spring. As the season ripens
remember my persistent passion.
And if you come into my garden
on an August afternoon
pluck a bright red globe,
let the juice run down your chin
and the seeds stick to your cheek.
When I'm dead
I want folks to smile and say
That Patti, she sure is some tomato!
Karen L. Smith, LCSW, PhD, is a medical ethicist at Henry Ford Hospital and vice president of Funeral Consumers Alliance.
Send me an email when this blog has been updated.