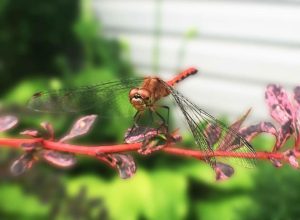 By Laurel Droz
These days I notice dragonflies.
They flit softly, urgently through blue sumer skies, arriving unexpectedly and alighting someplace warm. Wings stretch toward the June sun and refract light like stained glass on God's smallest church window. And I think of Gabriel. Mighty Gabriel.
Gabriel was born June 24 of 2015. He lived his whole life in one brief summer. In my mind he came in like the dragonflies do – alighting softly in some warm place and extending toward the sun, making himself known in the quietest, most remarkable ways before flitting off like a whisper.
And it isn't fair.
Most children roll through summer like thunderstorms. Rumbling and clashing and insistent. My own young son runs in and out of the house covered in a layer of sweat and earth and reminds me boys in June are a force of nature. Wild and tanned and unstoppable. And there is never any hurry because in the summer there is always more time.
I assumed there was more time.
When my cousin announced his son Gabriel had arrived to the world I thought of my boy and the dirt he wears like socks this time of year and laughed thinking "get ready. Get ready because in a few short years he will billow through your house like a strong wind and leave a path of legos and discarded clothes in his wake." I thought these things because when a baby is born you can't help but think ahead. They are the future in squirming pink form. It's amazing the things we take for granted. We always assume there will be so much more.
When I found out Gabriel had SMA I had to google it, I'd never even heard of it. It didn't take long to extract what I needed to: Spinal Muscular Atrophy kills babies. Not always – it comes in varying degrees – but this child, Gabriel, would likely not see snow.
We always assume there will be more seasons. But Gabriel only stayed here on earth for one summer before taking flight.
At his memorial the decorations were dragonflies and a sign hung above the door that said Joy Zone. His parents explained they chose to celebrate that Gabriel had happened rather than rage that he could not stay. My cousin told a story about dragonflies and how they change form as a metaphor for loss and I wish I remembered it better because it meant so much, but what I remember most clearly, what cemented itself that day, was seeing children's books placed around the room. Books they read to Gabriel that I had read to my own children. Books that mark the beginning of a life. And it felt so wrong to grieve amongst these hallmarks of the very young because he was just getting started and there should have been so much more.
Today should be Gabriel's 2nd birthday, but he only stayed for a summer. Nothing is promised and ultimately it's up to each of us to decide: do you grieve all of the "more" that feels stolen, or do you turn instead toward the sun and smile that it happened? Maybe a bit of both. Maybe sometimes it's very hard indeed to find anything but shadow to turn towards. But these days, when the sun kisses the earth and June blooms across the landscape, these days I notice dragonflies. They never stay long, but I'm glad for the moments we share. And when they've had their fill of soaking up the warmth and they flick their wings, rising up into the blues and browns and greens of a Michigan summer I smile.
Nothing is promised, but some moments are gifted to us, shining brightly, humming softly, giving pause and then taking flight. Gabriel, mighty Gabriel, lived his life enveloped in love and in summer. Today, and always, I am so glad he was born.
Laurel Droz is a Michigan freelance writer who is much less gloomy than her frequent rumination on death might imply. Contact her at laureldroz@yahoo.com
Send me an email when this blog has been updated.