By Alison Rector
In May 2017,  I traveled to Seattle for my third meeting as an FCA board member.  I thought you'd like to read about the work I'm doing on the national board.  I like the work.
The FCA board meetings are fun, fast paced, and productive.  9 members from FCAs around the country meet along with Executive Director Josh Slocum.  The meeting runs for 3 hours Friday night, 7 hours on Saturday and 3 hours on Sunday morning.  We do this twice a year, meeting in different locations, with short phone conferences in between.
My fellow board members come from Rochester, Detroit, Atlanta, Kansas City, Seattle, Blacksburg (Virginia) and Tucson. I represent Maine and  New England.
I currently serve as a Board Officer having been elected as Treasurer in 2016.  I also serve on the Fundraising Committee and the Personnel Committee.
There's a range of experience, ages and point of view on the board.  I enjoy learning from my colleagues.  They're a talented bunch of people with good senses of humor.
Topics the board and Josh discussed in Seattle: 
Biennial Conference 2018– We decided as a group that the June 2018 conference will be hosted in Rochester NY. We're now designing conference workshops with Josh, and planning the conference.  An overarching focus of the conference will be FCA Moving Forward:  "FCA 2025".   Many workshops will address sustainability of affiliates. The goal is to support thriving affiliates which helping new affiliate models to emerge. 
FCA Affiliate support (ongoing and central to our work and Josh's work): Each board member is expected to make phone calls to FCA affiliates (like FCA Maine). We're each assigned a list of affiliates which we are responsible for supporting by telephone.  We discussed which affiliates are thriving and which are struggling, and reasons why.
Affiliates of the future: What is the core mission of FCA affiliates? How are new FCA "tentacles" emerging?  How are younger tech savvy volunteers engaging with the work?  How can national effectively encourage involvement of the new volunteers while also  supporting the existing framework?  What does FCA 2025 look like?
Discussion of salary for FCA employees (Josh Slocum and Nastassia Stackbein): analysis of salary and benefit package. I'm on the Personnel Committee, so I participated in Josh' performance review in November.  This time, I brought salary guidelines  (non-profit salary guidelines from MANP), to the discussion.  Salary range, with caps, were set for both the Exec. Dir. Position as well as the Office Manager.
Financial Review of FCA/Bylaws change: Alison proposed a bylaw change addressing financial review of the organization. I gathered bylaws from 8 different non-profits for the sake of comparison.  I crafted wording which was discussed , tweeked, and unanimously accepted by the board.
Ongoing and Upcoming Projects (presented by Josh Slocum)
a. Standardized format for funeral home price lists, a proposal by board member
b. Update on Federal Trade Commission Funeral Rule reform by Josh
c. Possible joint project with National Home Funeral Alliance: reaching out to American Hospital Association on policies on releasing bodies to kin
FCA Web and Publications– discussion of adding spanish translation to the website. Presentation of updated & revised brochures we make available to affiliates.
FCA is collaborating with a college intern to do social media for FCA (one board member is a college professor & supervises the intern), and we're considering using Google Ad Sense to boost the FCA website presence.
Visiting People's Memorial Society offices (the largest FCA affiliate in the country) was another highlight of Seattle.  In addition to the membership organization,  PMA also runs a Coop Funeral Home ( just celebrating its 10th anniversary).  The offices are in small shopping plaza in downtown Seattle. It was impressive  and inspiring to visit their offices, talk with the staff of both the funeral home and staff of the FCA affiliate, and learn about their work.
On Saturday evening,  one of the PMA funeral directors hosted a lovely BBQ potluck dinner party at her home.  The guests included PMA staff, volunteers and FCA board members.  There were about 35 people in attendance on a lovely warm sunny evening in her backyard garden.  It was a great chance for FCA board members like me to meet, chat and mingle.   I enjoyed a conversation with local funeral directors.  One young man talked about his early career working for the corporate funeral provider SCI,  and what that was like.  He now owns his own funeral business in Seattle.  I also spoke with the 3 funeral directors who work at People's Memorial Funeral Cooperative.  PMA funeral director Nora Menkin and her husband, hosted the garden party.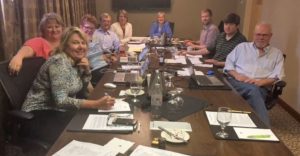 Photo from left to right:  Karen Smith, Nancy Petersen, Holly Shreve-Gilbert,                                         John Lantz, Alison Rector, President Marcy Klein, Phil Olson, Josh Slocum,                                                                             Rod Stout (missing: George Sanders)
Save the Date:
FCA Biennial Conference in June 21-24, 2018 in Rochester, NY Hosted with the support by affiliate, FCA of Greater Rochester. The focus is "FCA 2025" (what will successful FCA affiliates look like in the future)
You're Invited!
Send me an email when this blog has been updated.