-Joshua Slocum, executive director
So, what are the Core Values of the Modern Mortician?  My core values are to be transparent about funeral care, empower families in death, and "lift the veiled hood on the cloak of death"- which can be translated into, "This Mortician will NOT feed you smokey Bull Shit on a mirrored platter."
That's from a piece written by Melissa Unfred, and it's one of the reasons she'll be a featured speaker at FCA's 2018 National Conference in Rochester June 22-24. It's also one of the reasons Unfred isn't popular with many of her colleagues. She writes the blog The Modern Mortician, and regularly posts on her Facebook page about entrenched problems in the way funerals are sold to American families.
But she also spends time talking about "death-positive" approaches to the end of life; ways to encourage family and friends to be closer to the process and experience it for what it is, rather than as a commercial ritual obligation. That approach—along with a Very Good Boy—landed her on the cover of Southwest Airlines' in-flight magazine with her pal Kermit the Dog . Kermit—who I had the pleasure of playing tug of war with recently at a conference—is a little over a year and a half old, and Texas' 1st  certified therapy dog in funeral service.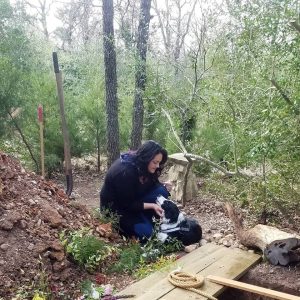 Kermit is on duty as a calming presence for anyone who needs him—staff included. . . . One afternoon shortly after I got him, the owner of the Austin funeral home I partner with was seeing a family in the main office. Kermit walked right up to the widow and put his head in her lap, and that bit of comfort was what helped her finish arranging her husband's services. He'll also interact with children a lot; a funeral can be a strange and difficult place for them, and he helps them cope.— (southwestthemagazine.com/creature-comfort)
Until recently, Unfred worked at a funeral home in Austin, Texas, known for reasonable prices and straightforward sales practices. She's now starting her own business to provide home vigils and natural burials to people and pets in central Texas. Like most FCA members, she has no time for excuses about cremations that cost three times more than they should, or the glorification of embalming as a necessary part of processing grief. As you'd expect, this hasn't made her popular with the old guard of funeral service.
"So many [mainstream funeral directors] want to serve families champagne when they're just thirsty for water," Unfred told me during a telephone interview. "They keep building bigger and bigger places, but it's not about that. That's not what families are asking for. What if they could become the smaller firm that welcomes families who want to wash or dress mom, for instance?"
Unfred says the client families she talks to are interested largely in direct, simple cremation. But much of the time they don't understand that there are options other than simple cremation or the full, costly funeral.
"They are often happy to learn of other options, like leaving the body to rest at home so family can arrive first before the body is removed. 25-percent of my clients are saying yes to [keeping the body cool] at home to rest for a time before the cremation."
The reaction from her colleagues has been skeptical to outright hostile. Anyone who has studied the American funeral business knows that it depends on a certain mythology. Funeral directors often invest a large amount of self esteem and identity into the idea that they, and their services, are an essential part of every community. When someone questions bypassing the commercial side of death altogether, wounded egos lash out. When that someone is one of your own, people get ugly.
"Oh, it's ridiculous. People were calling me a bitch on facebook forums and things like that. Pitch forks were out. And these people are acting as professional funeral caretakers in their communities?" she said.
Unfred first attended mortuary school in 2001 at the Dallas Institute of Funeral Service. She had to take a leave, and that turned into a decade. Unfred went back to mortuary school at Amarillo College in 2012 and completed the two-year program in a year and a half, graduating at the top of her class. During her first time around, she said, "I was interested in the embalming because of the artistry and restoration behind it, and also because I didn't realize there was another way to do it."
She's credentialed, she can embalm, and she's licensed to practice. That she also has the temerity to challenge convention has so vexed the Texas Funeral Directors Association that they sent her a letter. The first paragraph reads:
"On behalf of the TFDA Board of Directors, we are sending this letter regarding comments that were posted on your Facebook page. Several members have contacted the TFDA office to report posts they found to be offensive and unprofessional. There were negative comments directed at other TFDA members as well as the funeral profession in general.  This letter will serve as an official warning that this type of behavior will not be tolerated by TFDA. [Emphasis added.]"
The letter did not provide examples of these. Unfred says she suspects the letter was sparked by her Instagram post that showed a picture of a graveside service conducted by a "Dignity Memorial" funeral home. Dignity, also known as Service Corporation International, is the largest funeral home chain in the world, and is known for high prices and aggressive sales pitches. In the picture, the Dignity-branded green tent was tattered and in poor repair, giving an unprofessional image.
Unfred and I run into each other frequently online, and increasingly at conferences on alternatives to conventional funerals. We first met in 2016 when she attended the FCA National Conference in Atlanta. That year we had the highest proportion of "outsiders" at the conference; people not connected to FCA before, including mortuary school students and graduates like Unfred. Her insight into what ails our funerals, and her witty delivery, was apparent.
When I asked her what she wanted to tell the membership of FCA, and what they should expect at her talk, Unfred said, "I want people to know what to expect from these 'trained professionals'. I've been to mortuary school, and I know what they're being trained to do, and  I know how they're being trained to upsell families."
Being a funeral director, to Unfred, shouldn't mean a professional in a position to 'direct' what their grieving customers do. And the mainstream industry is going to have to accept that the days of capital D Directing in the funeral business are coming to a close as consumers turn away from the 20th century model. That doesn't have to be a threat to business, she said.
"If you just listen to people, you'll find out how you can fit in and how you can help them."
Send me an email when this blog has been updated.