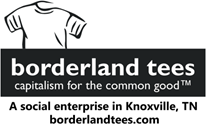 Borderland Tees is a social enterprise in Knoxville, Tennessee. Through screen-printing, we fund a community ministry to people who are marginalized due to prison records, mental illness, homelessness, addiction, or any other reason. We call it "Capitalism for the Common Good." We have also been involved with our local FCA for over 20 years. If your group does not already have a local printer, we'd be happy to ship to you. Basic Gildan tees are just $6 each with a minimum of 36, and we print v-necks, triblends, or anything else you could possibly want.
-Jenny Arthur, proprietor
Send me an email when this blog has been updated.