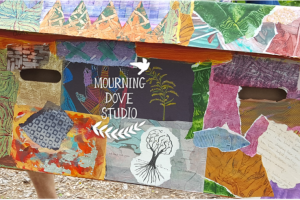 Mourning Dove Studio started from our own personal experiences – equal parts environmental concerns and the need for better ways to grapple with grief. We make and wholesale cardboard coffins that are environmentally-sound, financially-reasonable and sturdy enough to carry for burial as well as cremation. Writing and decorating the surfaces of these coffins is an option to help honor and say goodbye to loved ones.
Carol's passion for natural burial began in the '90's when her grandmother died and the disconnect was clear between how 'it is done' and how her nature loving grandmother lived. She began her journey to not only learn more, but to do more – which included inventing our cardboard coffins!
Funerals and other rituals work when they have a positive meaning to a person; upholding religious or other identities while anchoring one within a supportive community. If conventional practices don't match beliefs and values, however, they can be alienating and isolating. Natural burial makes sense when people hear about it because it stays true to values of caring about the environment after death as well as during life.
As in many areas of life, we haven't known the environmental impact of what we've been doing. Green Burial Council research revealed that in America each year we bury more than enough metal to rebuild the Golden Gate Bridge. Instead, choosing natural burial can preserve land. Using a biodegradable container like our cardboard coffin is an essential part of natural burial.
Cardboard coffins can help us emotionally through the hands-on experience of expressing love and grief through decorating them. That's what first drew Ruth to them, because after her mother died Ruth wanted to find something more simple and beautiful than the conventional casket used for her mom.
She's come to understand that her mom's casket was standing in for many things that she would have wanted to be different (natural burial, celebrant help with rituals and having a home funeral, for example). Finding meaningful ways to grieve is why our website has a Tribute Ideas page with stories of what others have done. One granddaughter made a quilt out of her grandfather's ubiquitous flannel shirts to give to her grandmother, for example, and a daughter
tied black and white checked ribbons on funeral flowers for her Nascar loving father. Share your experiences here (to help others find ideas!
Our website has a series of blog posts  helping people plan ahead. The third post is about the FCA! We're grateful for the many ways the FCA takes action. Plus, being with like-minded people at FCA conferences is informative, thought-provoking, and fun. Thank you!
With Mourning Dove Studio we're focused mainly on the part coffins play in all of this. We'll send a free 2' model to any FCA affiliate (you pay $10 for shipping) – useful to attract attention for tables/presentations – or to anyone who is considering selling our coffins. Contact Ruth Faas  at ruth@mourningdovestudio.com, or text/call 781-290-7356.
Send me an email when this blog has been updated.