The Federal Trade Commission wants to hear from Americans—this is your chance to help make a lasting difference for grieving people. The FTC's "Funeral Rule" may be amended, and we need your help to convince the FTC to update this important consumer regulation.

What's at stake? Your ability to get accurate funeral pricing information in real time. See, the funeral business is one of the only retail sectors that won't disclose prices online. Have you ever been to a funeral home website? Try it. Open up another browser window, and visit just one or two funeral home websites. Just the first two in your town to come to mind.

Bet you didn't find any prices, did you? That's no surprise. Our studies have found that only 1 in 4 American funeral homes list any prices online whatsoever. Why? Because it's easier to keep costs artificially high if you can deprive consumers of the ability to make price-competitive decisions. And grieving people are the perfect target customer.

You can change this. Until April 14, 2020, the federal government is accepting comments on the FTC's "Funeral Rule." This rule requires funeral homes to give you a complete price list, but only if you physically show up at the business. This is no way to treat bereaved families, and it's time to change the law.

Our goal is to convince the FTC to move the Funeral Rule into the digital age. We want funeral homes to be required to take the paper price lists they already have, and make those available digitally on their websites. FCA surveys show that, even in one town, the same simple cremation can be had at one funeral home for $800, but it may cost $3,500 at another.

Does that kind of cost difference mean something to you?

Please tell the FTC to make this change. They need to hear from regular Americans. Most households today can't even weather a $400 unplanned emergency. How are we supposed to face thousands in funeral and cremation costs? If we can get funeral home prices online, grieving people will have the ability to avoid being overcharged at a time of grief and confusion. This change will take a major part of that confusion and helplessness away.

Here's how. Visit this official government link, and follow the instructions to leave a comment. Tell the FTC that American families deserve price information online from funeral homes. We get it voluntarily from almost every other business we patronize.

It looks like this. Notice the green button "submit formal comment". You can also read the comments left by others.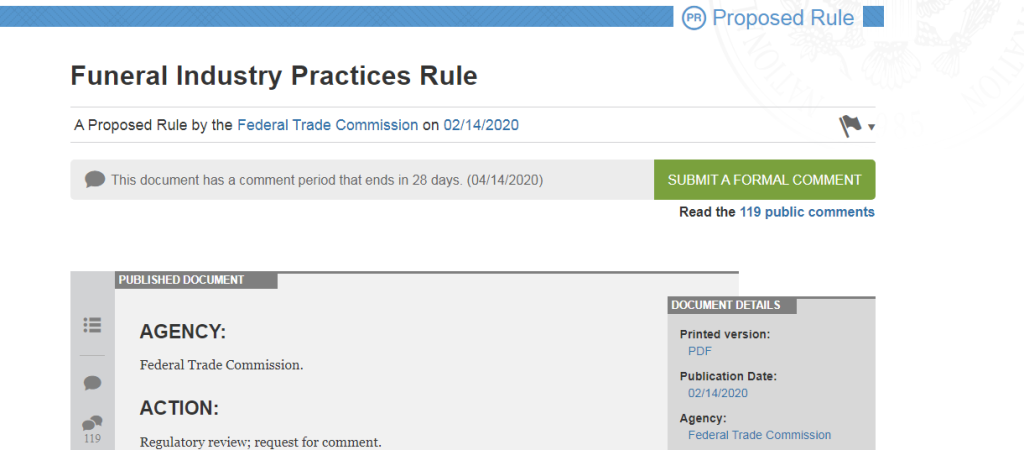 You don't have to write anything long. What matters is your point of view. Have you had sticker shock over a funeral before? Would it have been helpful to have these prices online when you last had to arrange a funeral for someone you loved? If you are disabled or have mobility issues, would this change help you?

Please comment today—thank you!


Send me an email when this blog has been updated.