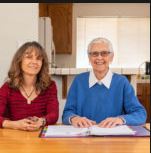 Death doulas—sometimes called home-funeral guides—advise families on how to care for the bodies of the dead and carry out necessary tasks when the family chooses an old-fashioned funeral at home, without involving a funeral home.
State regulatory boards that oversee the commercial funeral home business have often targeted these helpers with charges of 'practicing funeral service without a license', even though the guides may not charge (taking only voluntary donations), and even though the guides' main function is to give the family information so that it can carry out these tasks on its own.
Sadly, the state of California is trying to shut down this activity. Fortunately, the economic-liberty law firm The Institute for Justice (long a friend to Funeral Consumers Alliance and an advocate for the right of individuals to speak freely to educate each other on private, non-commercial funerals) is on the case. IJ has filed suit against the state.
Here's an excerpt from IJ's backgrounder on the case. Go here to learn all the details.
Retirees Akhila Murphy and Donna Peizer are end-of-life doulas in rural California who help families plan and hold home funerals. An end-of-life doula assists in the last stage of life and transition to death. A doula may play the following roles: helping plan for the end of a person's life; being present in the days or hours leading up to death, providing emotional and practical support to the dying person and family; and being present for the home funeral.

A doula is a layperson and does not say or do anything that is not legal for family and friends to say and do themselves. Like a birth doula, the end-of-life doula is a source of emotional and practical support, focusing on the personal needs of the dying and the family while others, like physicians, focus on the specialized technical needs.

A home funeral is just what it sounds like: a family hosts a funeral in a private home with the deceased loved one lying in honor. Home funerals are ancient, legal in all 50 states, and have always been an American tradition. George Washington died at home and his family held his funeral there. Nobel Prize-winning author William Faulker's 1930 Southern Gothic masterpiece As I Lay Dying is about a Mississippi family caring for the remains of matriarch Addie Bundren after she dies at home. These days, home funerals are experiencing a resurgence.

That resurgence brought the California Cemetery and Funeral Bureau down on Akhila, Donna, and their tiny nonprofit Full Circle of Living and Dying. In December 2019, the Bureau ruled that Full Circle is advertising and acting as a funeral establishment without a license. This decision requires Akhila and Donna to become state-licensed funeral directors, and Full Circle—which owns no property and runs on a shoestring budget—to build a full-scale funeral home. During a conference, Bureau staff dryly observed that "the funeral directors don't appreciate competition."

But Akhila and Donna are end-of-life doulas, not funeral directors. California cannot stop them from helping the dying and their families plan for the final passage and assisting in their home funerals. That is why they, Full Circle, and the families who want their help have sued in federal court in Sacramento to defend their First Amendment right to free speech and their Fourteenth Amendment right to earn an honest living helping others navigate their final days on Earth peacefully.
Send me an email when this blog has been updated.