Shop Before You Drop: Online Workshop May 23, 3 pm Eastern/12 pm Pacific

Late-night ads scream it at us: DID YOU KNOW THE AVERAGE FUNERAL COSTS $10,000!?
Guess what? You don't have to spend anywhere near that to get a funeral that fits your needs and your budget.
Join Funeral Consumers Alliance for a workshop on
basic funeral planning. You'll learn:
-How to find a reasonable price by shopping around
-All the things you don't "have" to buy that pad the bill
-Whether it's a good idea to prepay your funeral
-Why local FCA groups are your best friend for affordable funeral planning
When: Monday, May 23, 3 pm Eastern/12 pm Pacific
Where: Zoom—register here
Will it be recorded for later viewing?: Yes
Will there be time for audience questions? : Yes
---
Green Funerals Week—events by People's Memorial Association: May 31 through June 4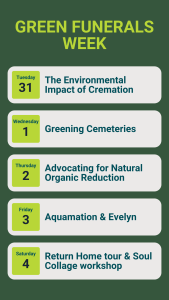 Spring has sprung and you know what that means…  It's time to talk about green funerals, of course!  Okay, well maybe you are a little more focused on reviving your garden and basking in some sunshine.  At People's Memorial Association, though, we like to take this time to dedicate an entire week to talking about the ways our bodies impact our planet at the end of life.
During our third annual Green Funerals Week, we'll be learning more about the environmental impact of cremation, get updated on the latest in land stewardship from green cemeteries around the country, find out how grassroots advocacy can help to increase deathcare options, and hear the story of the first aquamation to take place in Washington.  As part of this series, PMA is truly over the moon to be able to hold its first in-person event since 2019: a guided tour of Return Home's natural organic reduction facility in Auburn, WA followed by refreshments and a special crafting workshop facilitated by The Grateful Death.
Send me an email when this blog has been updated.