We hope you'll join us for FCA's Biennial Conference in Rochester, New York, June 21-24, 2018! We'll be on the East coast for the first time in years, and we've got a great rate for you at the Rochester Riverside Hotel.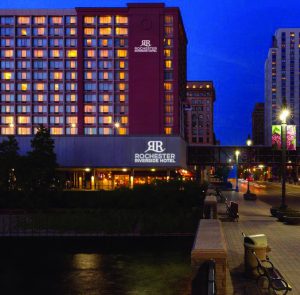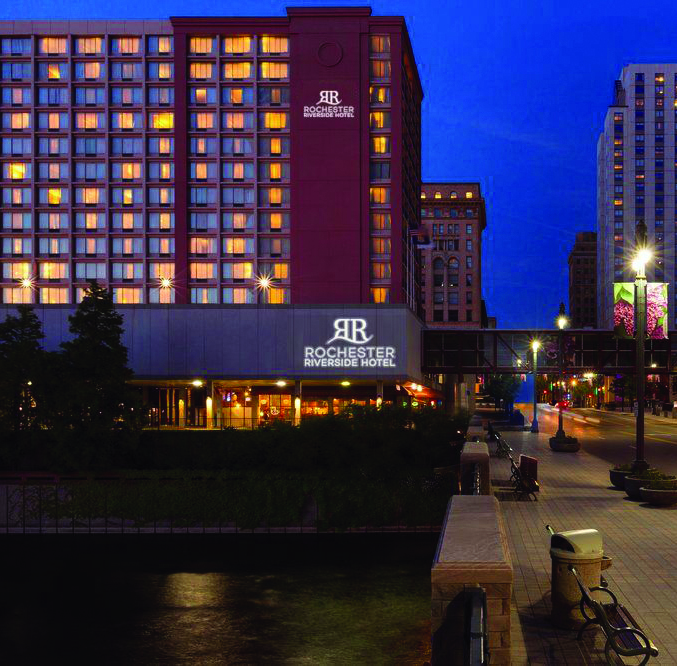 Click here for our 2018 Rochester Brochure.
Downloable .pdf version of conference program and registration.
Meals—Full conference registration includes a buffet breakfast and lunch Friday and Saturday. One-day registration includes breakfast and lunch the day you attend. The registration form has space for you to tell us your special dietary needs.
Lodging—Book your hotel at the conference rate here or call (585) 546-6400. Be sure to let them know you're booking within the FCA 2018 Conference block for the special rate.
Rooms are 2 queens or 1 king, and rooms may be shared for the same price. Are you looking for a roommate? Email nastassia@funerals.org to be put on a list of people looking to contact each other to share.
Transportation—The hotel has a free shuttle to and from the airport.
Scholarships—We offer scholarships of up to half off registration, with priority given to delegates of FCA affiliates who have not attended the last two conferences. Scholarship funds are limited, and offered on a first-come, first-served basis. To apply or ask questions, write josh@funerals.org
---
SCHEDULE
Thursday, June 21
12pm to 5pm—Registration
12pm to 5pm—Meeting of the outgoing and incoming FCA Board of Trustees (open to guests)
7pm—Reception with complimentary appetizers and cash bar
Friday, June 22
7am to 8:30am—Breakfast
8:45am to 9am—Housekeeping
9am to 12pm—Registration
9am to 10:20am—Opening remarks and the state of the FCA with executive director Joshua Slocum
10:20am to 10:45am—Break
10:45am to 12:15pm—WORKSHOPS
-Death cafes: overcoming death denial through enlivening talk; Mary Ellen Markant
-Social media basics: bring your laptops for a hands-on demonstration; Holly Shreve Gilbert
-Overcoming barriers to family-directed funerals; Lynn Barnett
-Dying in America: the immigrant experience of funerals in the US (panel discussion)
12:15pm to 1:15 pm—Lunch
1:15pm to 2:15pm—KEYNOTE
A Powerful Partnership:  Funeral Consumers Alliance, Consumer Federation of America, and the nationwide consumer advocacy movement; Stephen Brobeck, executive director of Consumer Federation of America
2:15pm to 2:35pm—Break
2:35pm to 4pm—WORKSHOPS
-Storytelling for fun and profit!; Ruth Bennett, executive director of FCA of Arizona
-Blended funerals: doing it yourself with some professional help; Terry Skovronek, National Home Funeral Alliance
-A Brief History of Dying – a historical look at how modern medicine has altered how we die. You will be amazed at all you'll learn in this fun 1 hour talk.
4pm on—Dinner and sight-seeing. The hotel is on public transit lines, and the city's night life is about 10 minutes away
---
Saturday, June 23
7am to 8:30am—Breakfast
8:45am to 9am—Housekeeping
9am to 10:20am—PLENARY
Q and A with FCA: Join FCA board and staff for a discussion of our current projects, and to ask    questions and share concerns and projects from local FCA organizations.
10:20am to 10:35am—Break
10:35am to 12pm—WORKSHOPS
-Writing a journalistic obituary: for the dead and the pre-dead; Holly Shreve Gilbert
-Panel discussion on changing New York laws to return control of the dead to families without requiring a funeral home. We'll be joined by home funeral practitioners, religious burial society representatives, and local hospital administrators to discuss smoothing the path for DIY families and communities.
-Making funerals meaningful again—Phil Olson, Virginia Tech, FCA Board
12pm to 1pm—Lunch
1pm to 4:15pm—WORKSHOPS
-Death with Dignity, 1pm to 2:30 pm; Karen Smith, PhD
-Break, 2:30 to 2:45
-You're the surrogate: so now what? 2:45pm to 4:15pm; Karen Smith, PhD
1pm to 4pm—WORKSHOPS AND FIELD TRIP
-Being a Modern Mortician: meeting modern families where they are with unconventional options; Melissa Unfred, licensed funeral director and blogger at themodernmortician.com
-Storytelling for fun and profit (repeat); Ruth Bennett, executive director of FCA of Arizona
-Field trip to Mt. Hope Cemetery, America's first municipal cemetery. Join volunteer guide Rick Schaeffer for a walking tour of the picturesque Victorian burial ground featuring the graves of Susan B. Anthony, Frederick Douglass, and others. A carpool sign-up sheet will be available at the conference.
6pm to 7pm—Reception with appetizers and cash bar
7pm to 9pm—Closing Banquet (optional)
---
Sunday, June 24
9am to 5pm—Meeting of the FCA Board of Trustees (open to guests)
---
Featured Presenters
Stephen Brobeck, Executive Director, Consumer Federation of America—We are part of a much larger, broader world of consumer advocacy. Steve Brobeck has more than three decades of experience in that world, heading the CFA, which takes on auto safety, insurance practices, consumer loan products, food safety, and much more. Our partnership with CFA has pushed our goal of price transparency for grieving consumers onto the national stage, and local Funeral Consumers Alliance groups can benefit, too.
Mary Ellen Markant leads "Death Cafes" in Western New York, open discussions that demystify death. Join her for an overview of overcoming death-denial through lively talk.
Holly Shreve Gilbert of the FCA national board will share her expertise as a journalism professor in a hands-on workshop on basic social media skills for small nonprofits. Bring your laptops! Holly will also demonstrate how to write a compelling, journalistic obituary.
Terry Skovronek and Lynn Barnett, of the National Home Funeral Alliance, will offer a pair of workshops on practical ways to approach home and family-directed funerals. What obstacles get in the way of considering a home funeral, and what practical barriers can be met and overcome? They'll offer advice on "blended funerals", where the family carries out some aspects but engages a funeral home for help.
Josh Slocum, Executive Director of FCA—It's been a busy two years for the national organization since our last conference. By focusing on how funeral homes are hiding prices in the digital age, we've made a strong case in the media and before the Federal Trade Commission that it's time to require funeral homes to post their price lists online. Along with our core consumer-advocacy work, is it time to broaden the scope of FCA's mission? What would our funerals look like, and what would they mean to us, if we saw them as something healing that truly helped re-knit a community instead of a commercial obstacle on the path to get past a death?
Karen Smith, Vice President of FCA and a clinical ethicist at Henry Ford Hospital, will give talks on the history of dying since the advent of modern medicine.  How we die, where we die, and the places our bodies end up have changed remarkably in just a few short centuries. She will also present on "death with dignity" legislation, and on the questions facing anyone who acts as a surrogate decision-maker for a loved one who can't communicate her medical wishes.
---